Lumiere Press has always had a special rapport with our collectors. The books are not a one-way stream of images and ideas, but part of the dialogue on photography and bookmaking. After all these years of interesting and encouraging correspondence we've created a web page to showcase our readers' and colleagues' thoughts and commentary. To send comments click the following mail link
comments@lumierepress.com
---
"The book is an astonishingly beautiful and important work. Your writing is personal and eloquent, just perfect for the overall project. And of course, the production is flawless. I read every word and just loved it. In addition to your details on your thinking about each project, and the memories of the artists, I truly admire your sense of optimism and curiosity. I identify completely with the idea that every project/experience is an opportunity to learn something new, to come to know something we might not even have thought about before but, now that is IS known, really makes a difference. It's all albout deepening one's sensitivities and expanding one's awareness ... all for its own sake. The ending of the book was just wonderful."
- Keith Davis, author of An American Century of Photography


---
"It's such a perfect book. I was struck and delighted throughout by the elegance of the spaces between the text blocks - the leading, tracking, margins. It all serves the act of reading so well. And the stories are wonderful to read. I couldn't put the book down, savoring each word and insights faithfully lived, shared, and recorded."
- Gordon Sisler, St. Catharines, Ontario


---
"Today, with the major changes in printing technologies and the delivery of information, being a private press printer is tremendously challenging. The amount of manual labor and knowledge required to design, print, and bind books is daunting. Only those with exceptional devotion and love for the arts of the book dare get involved.
Lumiere Press has combined this dedication with a passion for photography to produce about two dozen exceptionally fine editions. The story of how the press evolved after a decade spent in study of the skills needed, before even beginning work on the first book, is inspiring and fascinating. Printer Savant is also a prime example of the quality of design, printing, and binding which appear in all Lumiere Press editions."
- Jerry Kelly, author of Hermann Zapf and the World He Designed


---
"I just finished reading Printer Savant. I am impressed with your skill, dedication, drive, focus, and thoughtfulness. It all comes out in the book. Like any good book, it left me wanting more. I hope all the people who purchase the book get the same value from it that I did. It's a work of art that motivates. High praise."
- Tom Ridout, Acton, Ontario

---
"Lumiere Press: Printer Savant & Other Stories is a survey of the impressive body of work Canadian publisher Michael Torosian has produced over the past three decades. This newest Lumiere publication chronicles the twenty-two volumes issued by the press since 1986, featuring the work of important twentieth-century photographers. However, as he tells the stories of the creation of each project, Torosian also reveals his own reflections about his growth and development as a printer and publisher. The book has been made with great care, and its illustrations are printed with high-definition stochastic screening for the utmost fidelity. It combines the finest qualities of physical book production with a compelling narrative. Highly recommended !"
- Bruce Kennett, author of W. A. Dwiggins: A Life in Design


---
"A thing of beauty."
-John Edwin Sweetman, Pickering, Ontario


---

Comments on: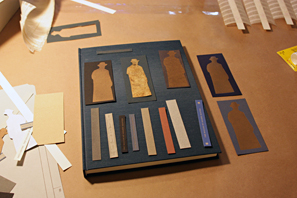 ---
"Now that I have had the time to spend with the book, I am absolutely delighted with it. Everything, from the design to typography to printing to materials is spot-on. I found the text to be very moving - at times poignant - and Saul Leiter fascinating! The book is a real pleasure to behold and read."
- Vadim Rosohatski, Vaughan, Ontario


---
"What a truly beautiful book. Understated, immaculately crafted and art directed - the typeface - in fact everything. Even the wrapping is a work of art."
- Michael Seresin, Cinematographer "Fame" "Harry Potter and the Prisoner of Azkaban"
Queen Charlotte Sound, New Zealand


---
"The Ballad of Soames Bantry is a beautiful and engrossing production. It has inspired me to spend more time with the writing and photography of Saul Leiter. Congratulations."
- Paul Whitney, Vancouver, British Columbia


---
"Just received the exquisite, neo-romantic book.
Well arrived.
Beautiful."
Jean Charles Blanc, Paris, France


---
"The Leiter volume exceeded my high expectations. Every facet of the book demonstrates your creative masterful hand in the craft of bookmaking."
- Charles Search, Eugene, Oregon


---
"The book is fabulous. Reading the remembrances as well as the conversations gave a wonderful insight into an amazingly talented artist."
- Walter Sondheim, Santa Fe, New Mexico


---
"I felt the scent of the ink from the book.
I only looked through yet, but I was very excited.
I would like to enjoy this wonderful book little by little."
- Ichiro Hasegawa, Tsukuba, Japan


---
"The book arrived yesterday and I have devoured it, beginning to end.
Such a unique life, told and presented so beautifully!
Leiter had a thing for beauty. He would be very pleased.
It is a treasure."
- Robin Bassett, Victoria, British Columbia


---
"The Ballad of Soames Bantry is an insightful, fitting, and beautifully crafted tribute to a truly great photographer and artist. It is a gem."
- Johann Koller, Zwettl, Austria


---
"I believe the world record in the high jump is 8 feet and 1/4 inches. That is where the bar is now in bookmaking, too, and you hold the record. The Leiter book is a masterpiece."
- Joseph Bellows, La Jolla, California


---
"The book is exquisite.
I am so happy to own this beautiful volume.
It is an inspiration."
- Leslie Hossack, Ottawa, Ontario


---


Comments on: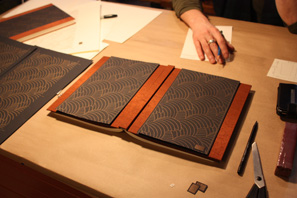 ---
"This is a very special book about a special period in my family's life - my grandfather's years in France following the end of the First World War. I grew up hearing stories of the little village of Voulangis, of a magical house at a rather magical time, and this book has captured that period eloquently. When I read the book I really could hear my family talking and that has meant such a great deal to me. I loved my grandfather and I want to tell you how wonderful he was, how ebullient and how nurturing of young artists, and also occasionally tortured and depressed and all those things that we think great artists are, but Voulangis was a sanctuary for him and somehow Eduard et Voulangis has made that clear."
- Francesca Calderone-Steichen


---
"Every tangible detail of Eduard et Voulangis honors Steichen, who invested his artistry not only in composing his paintings and photographs, but also in presenting his own work and the work of others in the most attractive, organic settings possible. Steichen believed that photographs and paintings deserved imaginative, innovative display, whether in galleries or in books and journals. The artist in him carefully chose the colors and textures of gallery backdrops, as well as the papers and fonts for journals and books. Steichen would no doubt have appreciated the sumptuous cover, endpaper and interior paper made especially for this book, so evocative of choices he himself made. Michael Torosian richly deserves applause for the handsome design, composition, presswork and binding.

This gorgeous volume does honor and justice to all facets of Steichen's artistry. It is a physically beautiful book, a delight to the eyes, and invaluable for its text as well as its images. Steichen's photographs are illuminated by authoritative, insightful essays by Howard Greenberg and Michael Torosian. They have collaborated to render a multidimensional portrait of Steichen the artist and Steichen the man at a pivotal period in his life and work. Eduard et Voulangis is itself a work of art, worthy of the complex artist who is its subject."
- Penelope Niven, author of Steichen: A Biography
---
"Musical and precise: pure pleasure."
- Michael More, Santa Fe, New Mexico


---
I was enticed to buy the book by the topic and also the pleasure and excitement of owning something limited with very special plates. Then the surprise. The feel of the book in my hands, the appearance of the book before opening, the typeface, the plates, the paper and finally the words on Steichen. This is not just another limited edition book - rather it is a total sensory experience!

- Robert Perryman, Dublin, Ireland


---
"A wonderful and beautiful book ... both in words and images."
- Michael Gow, Penn Yan, New York


---
"The prints are exceptional and will be an ongoing source of inspiration in my own work."
- Bruce Ambuel, Waukesha, Wisconsin


---
"The book has arrived: it is every bit as beautiful/stunning as I had hoped for."
- Graham Beer, Toronto, Ontario
---
"I love the paper, the type almost looks carved into it, and it complements the photographic images perfectly. It's overall design couldn't be finer... I think it is the most beautiful book I have ever touched and read."
- Francis Morrissey, Eliot, Maine


---



Comments on:

Paul Caponigro: On Prior Lane: A Firefly's Light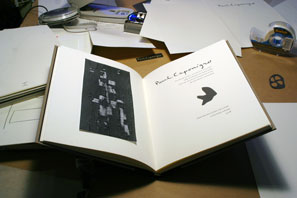 ---
"I read the book in one sitting and look forward to going back to read it again. The interview provided an in-depth appreciation of Caponigro's character and intellectual sensitivity which is reflected in the images and adds to their impact. The images are rendered as well as I have seen in a publication – almost as though the actual print is before you in a smaller format. You have set a very high standard combining design, craft, text and presentation. It is an enriching work of art."
- Charles Search, Eugene, Oregon
---
"The interview paints a written portrait very clearly and beautifully and draws out Paul Caponigro to help the reader understand the roots of the spirit and feel the mystery within the photographs. While your conversation centered on his particular art, the content applies to all fine art forms. The book's craftsmanship is exceptional, the images are magnificently reproduced and the words and ideas are those the artistic soul wishes to hear expressed. The book overall, illuminates the highest level of art. Conservation of this quality of art is essential to the integrity of our culture. Your books, in this regard, are a gift to future generations. "
- Dennis Dilmaghani, Purchase, New York
---
"The book is superb."
- Hugh Anson-Cartwright, Anson-Cartwright Books, Toronto, Ontario
---
"Just finished reading your interview with Paul. Wonderful .. really communicates his spirit and his calm .... I called him and we chatted about my reaction and about our 52 year friendship. He loves the book. Me too. Beautiful book. Thanks"
- Carl Chiarenza, Rochester, New York
---
"That is a masterful Caponigro essay. I say essay rather than interview because of the transformation from tape recorder to an almost novelistic summation. The piece could well appear as a
New Yorker
magazine profile – the highest praise I can think of."
- Harry Malcolmson, Toronto, Ontario
---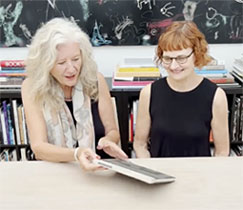 .....
"Exquisite...Beautiful...Classic."

- Mary Virginia Swanson, Tucson, Arizona
and Susan kae Grant, Dallas, Texas



---
"Another tour de force!!"
- Bill Mindlin, Photograph Magazine, New York, New York



---
"Exceptional! A beautifully designed and printed volume to add to the Caponigro canon."
- Ed Ripp, Ed Ripp Bookseller, Albuquerque, New Mexico
---
"The book has become a very important part of my collection. After repeated viewing it continues to provide me with enjoyment and discoveries."
- Alan Valencia, Los Angeles, California
---
"Wonderful book! Congratulations."
- Michael Lang, New York, New York
---
"In an age of visual overload, for the most part 'signifying nothing', it is finally refreshing and inspiring to encounter a heartbreakingly beautiful testament to a special creative force that is Paul Caponigro and that this book, in it's bountiful magical execution, confirms."
- Peter Fetterman, Peter Fetterman Gallery, Santa Monica, California
---
"As the proud owner of two other Lumiere Press titles, it is my opinion that the Caponigro book is another 'Home Run' for Lumiere."

- Allen Crooks, Halifax, Nova Scotia
---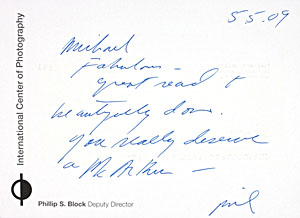 ---
"Your most recent volume on the work and philosophy of Paul Caponigro, is yet another virtuoso performance. Meticulously crafted and beautifully presented, it is a marvelous example of the intersection of talent, ingenuity, and tenacity. With each successive book you somehow manage to 'raise the bar' just a bit higher in a long, sustained progression of accomplishments. Congratulations!"
- Ronald Hurwitz, Voirin Editions, Paris & Toronto
---
"The book arrived yesterday and it is simply beautiful."
- Katheryne Gall, Hamilton, New York
---
"First one notices the look and finish of the book. Then the careful attention to detail: paper, colour, typeface, layout, the impressive reproduction of the photographs, the feel in one's hand. Michael Torosian has created a work of great beauty and a terrific invitation to Caponigro's perspective on his photography, safe passage into Caponigro's work and thought. My introduction to Paul Caponigro goes back to early days at the Apeiron workshops in upstate New York. It was the early 1970's. We have been in conversation ever since and throughout this interview his voice feels easily recognizable."
- Robert Minden, Vancouver, British Columbia
---
"Congratulations on your exquisitely beautiful/illuminating respectful book on Paul Caponigro. With your thoughtful considered/economical questions - you allowed him to speak."
-Ray Charles White, New York, New York
---
"Your newest book quickly became one of my favorites of the five I am lucky enough to have in my collection. As always the craftsmanship is superb and the interview is especially well done in how it enhances the photographs and overall "tenor" of the book. An excellent example of why books will remain with us forever. Can't wait to see what is next."
- Bob Packard, Marietta, Georgia
---
---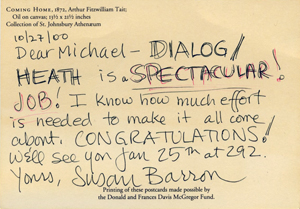 ---
"I acquired a copy of David Heath's 'A Dialogue with Solitude' from Lumiere Press about five years ago. It was the most elegant, poetic, and visually engaging photography book I had ever purchased. The past couple of years I have been travelling back and forth across the United States and Europe and had to store a great deal of my belongings, Mr. Heath's book included. This past month, I was able to get some things out of storage, and have thus rediscovered David Heath all over again. For all your hard work, rigor, and meticulous dedication, I thank you."

---
"I am on my knees in admiration for a fantastic, consistent choice of paper, size, colour, font and design. What a BEAUTY."
- Bjørn Sterri, Oslo, Norway
---
---